In a speech today on the barriers to social mobility in the UK, the Prime Minister singled out the "low aspirations" of young people from poorer families, deprived areas and ethnic minorities as a key factor in their relative lack of success in attaining the best jobs. The way to increase the social mobility of young people from disadvantaged backgrounds, Cameron claimed, is to "get out there and find people, win them over, get them to raise aspirations and get them to think that they can get all the way to the top."
If the Prime Minister took a few minutes to review the latest evidence on young people's aspirations, he'd realise that he's made the wrong diagnosis. The social mobility of young people from poorer areas is still limited, despite decades of government intervention? Yes. This is due to the fact that these young people aren't aiming high enough? No.
Evidence from the Youth Questionnaire of the Understanding Society dataset – the UK's flagship social survey – which captures the occupational aspirations of thousands of young people from up and down the country, including many from the backgrounds Cameron complains are sites of 'low aspiration', indicates that young people have high aspirations across the board:
81% of young people aspire to professional, managerial or technical occupations: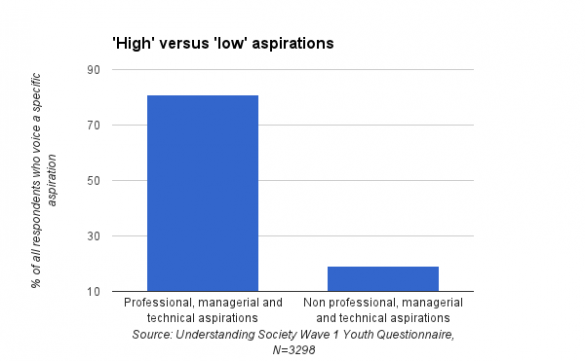 Young people from families with below average income have only marginally lower aspirations than their peers from more affluent households: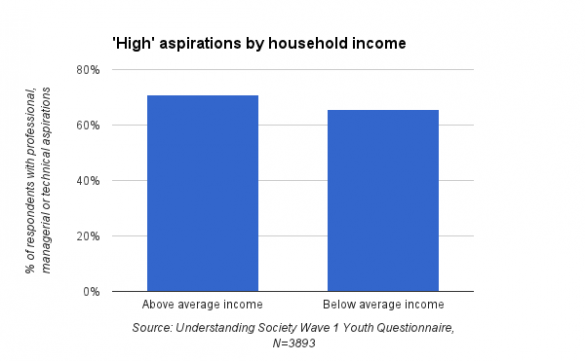 The aspirations of young people from deprived areas are just as high as those of young people from less deprived areas: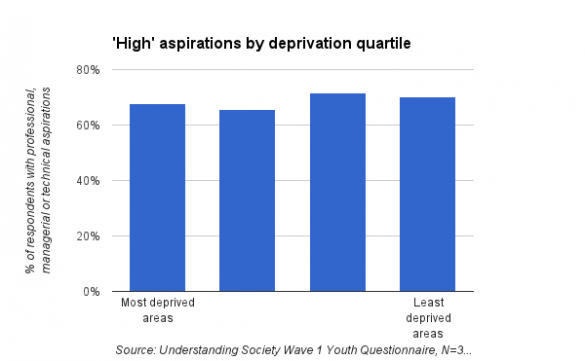 And the aspirations of ethnic minorities are, in fact, higher than those of White British young people, whose aspirations are lowest.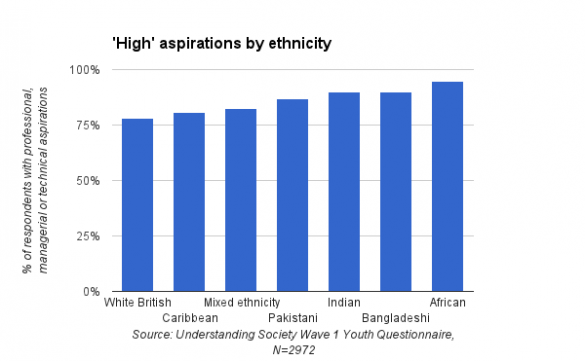 It's important that the government gets its diagnosis right when it comes to the lack of social mobility in the UK today. Bemoaning a lack of aspiration on the part of young people puts the problem at their feet when, in fact, the reality seems to be that young people from disadvantaged backgrounds have their sights  set high. The problem comes later down the line, when they come to translate their aspirations into outcomes.